(Included)

The General Ledger module is the heart of Visual Grasp© Accounting Software. All of the standard and optional modules post directly into the General Ledger and many of your financial reports such as the Balance Sheet and Income Statements are printed from this module.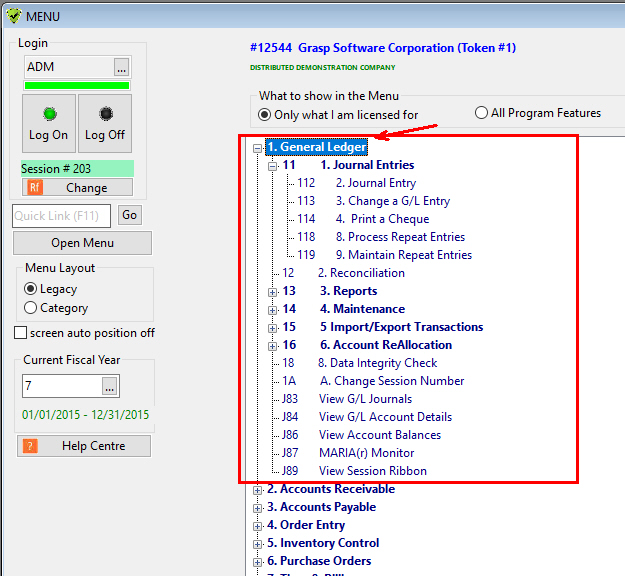 This module includes the ability to post directly to the G/L, import and export transactions, create budgets and recurring entries, perform account and bank reconciliation and print many of the financial reports for management, taxation and year end reporting. The "Maintenance" section of this menu is where you set up the various sales taxes that you pay and collect and are required to report, your chart of accounts, department codes, maintain User IDs, system security, set up budgets and much more.

It also includes the unique M.A.R.I.A. (Management And Report Intelligent Analyser) which tracks 20 different financial based ratios such as Quick Asset Ratio, Inventory Turnover Ratio and others.

And because you can control access to the screens, it means that the General Ledger aspect of your accounting software is secured to your highest-level employees.

On the next page you will see a few screen shots of the Visual Grasp© Accounting Software General Ledger module. You should be able to see the clear and simple design of the screens which means that Visual Grasp© is easy to learn.

We've made it even simpler by having a "Quick Link" jump right on the forefront of your screen. The "Quick Link" makes it quick to hop into screens that you use on a regular basis.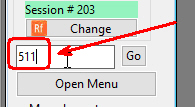 Visual Grasp© is a perpetual system with all of your years available online forever. Switching between fiscal years is fast and easy. Simply change to a different fiscal year from the always visible main menu.
And just be sure to note: While the various fiscal years can be Opened and Closed as needed for posting, they are always available for reporting.